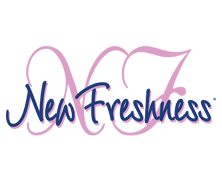 New Freshness™
New Freshness™ is the trusted brand for safe and gentle feminine freshness!
Available in two fresh forms:
Feminine Deodorant Spray- New Freshness™ Deodorant Spray is hypoallergenic and formulated with corn starch to absorb odor and moisture. It's safe and gentle enough for everyday use.
Vinegar & Water Douche- New Freshness™ Douche provides ready-to-use gentle cleansing that won't cause irritation.